Upcoming Shows:
Gold Coast 3 @ LAEC May 20-22
Memorial Day Classic @ LAEC May 26-30
Gold Coast 4 @ LAEC June 17-19
Red White and Blue @ The Oaks June 29-July 3
——————————————————————–
Gold Coast 7 @ LAEC Oct. 21 -24
National Preview @ LAEC Nov 10 – 14
L A National @ LAEC Nov 17 – 21
Memorial Day Classic @ LAEC May 26-31
Gold Coast 4 @ LAEC June 18-20
Oaks Blenheim Red White and Blue June 29- July 4

Show results:
Gold Coast 3 May 21-23, 2010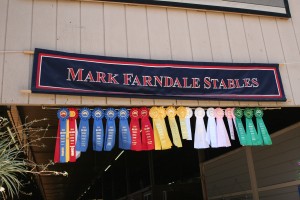 We had a great weekend at Farndale Stables!!!  With six horses and eight riders competing in the latest Gold Coast, and everybody doing a fantastic job! All the hard work really paid off over the last 3 days.
Carmen made her debut in the Hunter and Equitation rings with her owner Heather Collins. Placing 3rd twice in 18-35 equitation over fences on Sat. then getting a 2nd and 4th in the open hunter division on Sunday. This was Heather's first show since the birth of her son Cooper, 7 months ago! This pair is better than ever! Ross Steinbach and his Carte Blanch got to show only 1 day, but they made it count, placing 7th out of 32 and 6th out of 19 in the .85M and .90M jumpers on Saturday. Both rounds were double clear!!  Martha Post's Evensong was the star of the  barn this show. She won all 3 classes in the Baby Green Hunter division on Friday, to be Champion. Then again on Saturday she won, this time with Kelsey Work riding in 18-35 equitation on the flat and a Res. Champion in that division. And then on Sunday with Martha riding, back in the show ring for the first time in years, she was 4th in Novice Equitation, 18 and over. Joe Rich and Summertime Blues had a great weekend, placing in 6 out of 7 classes. We love having this new pair in our barn. They have come a long way in a very short time together. Christopher Chun and his Romono showing that they will soon be a force to be reckoned with doing a very nice job together. Last, but certainly not least, Lisa K showed Romono in the low hunters on Friday, and her last round showed something very special indeed. This horse is not only going to be a great equitation horse, he is truly Hunter Derby material. They are going to be fun to watch!
Gold Coast 7  Oct. 15-17
Newcomers to our barn Sarine Aratoon and The Illusionist place consistently everyday in 1.10M
Martha Post's new mare Evensong shows great promise at her first show. She was Gold Coast 7
Show and Gold Coast Series Res. Champion Pre-Green and Champion Low Hunter. Thank you!!!
2009 USDF/CDS Championship Show Oct. 1-4
Watercolor places 6th overall in the CDS Open 1st Level Championships.
The first day we got a score of 73.4% with another 9 for her lengthened trot!!
Thank you Cathy Marx for letting show your wonderful mare. It's been a blast!
Jaye Cherry has done a fantastic job of turning this jumper rider into a reaI
dressage rider. I wonder how far we can go ???
L.A. International Jumping Festival  Sept. 16-20
Heather Collins' Carmen Reserve Champion 1.10M Jumper! 2nd & 6th
Summertime Blues 5th and 7th 1.15M Jumper, 6th 1.10M stake
Gold Coast 6 August  27-31
Mykiella Lesko & Merlin 2 x 3rd Walk Trot 17 & under in their first show
with us. Congratulations!!!
Carmen gets great ribbons in every class entered 1.15M and 1.20M Jumpers
Cool August Nights  August 20-22
Watercolor does it again! We won 3 of our 5 classes and placed 2nd in the other 2. She also wins the Cornerstone/Markel Open 1st level Championship. This mare really loves her new job. We started doing doing dressage in February of this year after she decided jumping was not her cup of tea.
Again a big  thank you to Jaye Cherry for all of her help!
CDS Dressage July 4-5, 2009
Watercolor wins 3 of her 4 classes! We competed 1st level tests 2 & 3. Saturday we were 1st and 3rd respectively. Sunday she really stepped it up a notch to win both classes. Scores of 68.889% and 70.541%  under judge Louise Koch.  And she scored a 9 for her lengthened trot in test 2!!!
Thank you to Jaye Cherry for all of your help!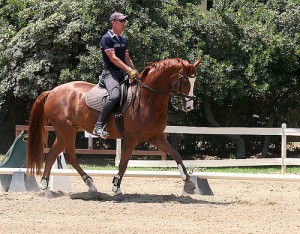 LAEC Gold Coast 4 June 2009
Heather Collins' Carmen 2nd and 4th 1.15M jumpers.
Jay Lipman's Summertime Blues 3rd 1.20M jumpers.
Thank you !